Expert React Training with Real-World Applications
Learning how React hooks work is one thing. Learning how to build an app with them is another. We teach both.
Book your training
Let's get your team the React expertise they need.
Literally THE BEST training I've received/attended to date. Wish we had another day!
Fidelity Team Member
Bitovi Training Attendee
Don't see what you need here? We can probably still help. Click the button below to tell us what you have in mind.
What Makes Our Training Valuable?
React for the Real World
In most trainings, your teams will learn how to achieve individual skills in React. What they won't learn is how to apply those skills to their real-world projects - like successfully building an app.
In our trainings, your team won't just learn how to use React in the abstract. They'll practice how to apply those skills to build scalable, maintainable apps.
The day after our training is complete, your team will have the knowledge they need to put what they've learned into practice. You'll immediately see the difference.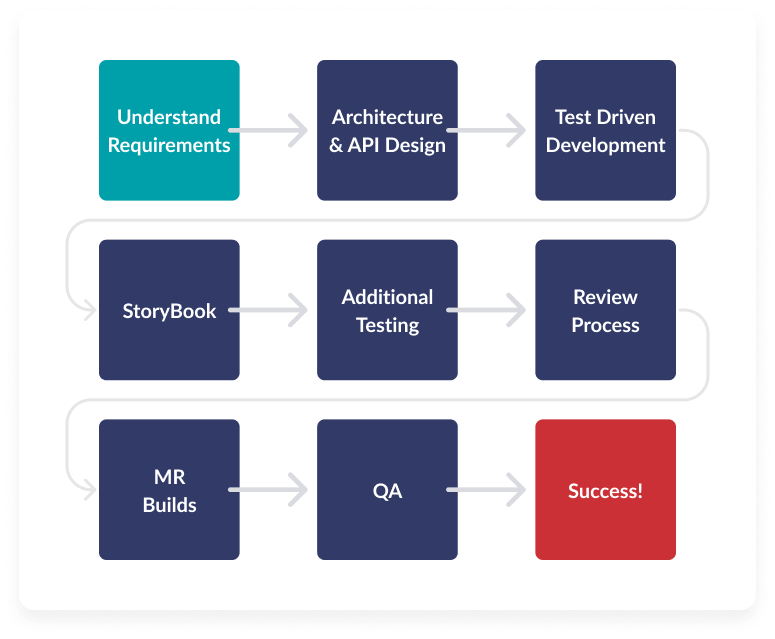 Why train with Bitovi?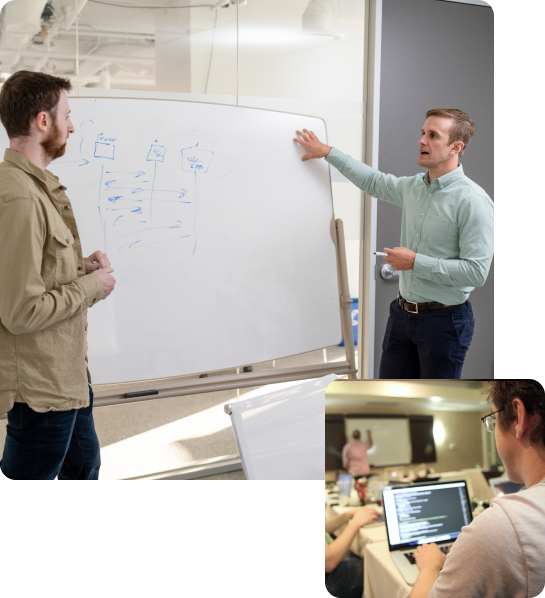 Learn From the Experts
Our instructors have years of experience designing and developing apps the right way. Our trainings ensure your team not only learns best practices, but real-world applications.
Team-Based Trainings
Our trainings are designed for teams, not individuals. Your whole team will learn more effective ways to collaborate and best practices that keep them in sync.
Full Customization
Our trainings are tailored to address the challenges your team is facing today. We're happy to teach anything from fundamentals to highly advanced skills to general best practices.
We Come to You
While we can arrange remote trainings, we prefer to teach in person to ensure everyone on your team gets the attention they need. Bring us to your office and we'll turn it into our classroom.
Really enjoyed this class! The instructor was phenomenal, and the content was both challenging and engaging.
Patrick Gallagher
Bitovi Training Attendee
Pricing
Prices below are for a standard 5-day in person training, and organized by the number of instructors needed.
3-8 Attendees

In-person or remote
Custom training tailored to your team's needs
1 instructor
Recording of your training

$5,000 flat rate

9-16 Attendees

In-person or remote
Custom training tailored to your team's needs
1 instructor
Recording of your training

$10,000 flat rate

17+ Attendees

Larger groups can be complex, so let's discuss the best way to get your whole team the training they need.

Contact Us for Pricing
Want a shorter training? A remote training? Something else entirely? Click the button below to fill out your desired options and request pricing.
How the training process works
1

Initial Call

We'll discuss your team's needs and challenges, what topics to cover, and scheduling.

2

Training Agreement

We'll write up and send a contract with all the details. Fee is due on contract signing.

3

Material Assembly

We create your custom training and confirm that everything you need is included.

4

Training Week

We'll present training material, show real-world applications, and work 1:1 with each team member.

5

Ongoing Instruction

We create a private Discord channel where your team can get follow-up help from our whole team.
Need something specific? Not a problem.
Need a topic not listed here? A remote training? A short training? Mornings-only trainings that let your team keep working in the afternoons? Let us know what you're thinking and we'll help arrange it.